Risk management
A risk assessment should be conducted for all situations where there is potential for injury or exposure to blood or other potentially infectious material. Contact your local Occupational Health and Workplace Safety representatives to confirm local risk assessment processes.
Management of identified risk should follow the hierarchy of controls described in s36 of the Work Health and Safety Regulation 2011.
Hierarchy of risk control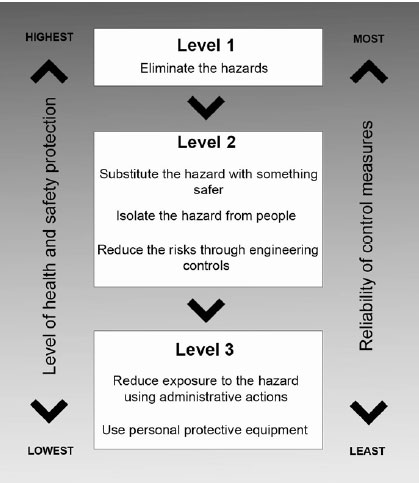 Hierarchy of risk control, which is outlined in detail in Workplace Health and Safety
Queensland's How to manage work health and safety risks – Code of Practice 2011
Level 1 - Eliminating the unnecessary use of sharps, for example:

Implementing changes in practice (such as, eliminating unnecessary injections and introducing the use of needle-free intravenous access system)

Level 2 – Substitution, isolation and engineering controls

Provide medical devices incorporating safety-engineered protection mechanisms (refer to recommended practices listed below)
Use of approved sharps disposal systems

Level 3 - Administrative actions and personal protective equipment

Training;
Specifying and implementing safe procedures for use and disposal of sharp medical instruments and contaminated waste (for example, preventing the recapping of needles and not overfilling sharps containers
Double gloving during surgical procedures
Vaccination

Where there is a risk of exposure to a biological agent for which an effective vaccine exists (refer to the Queensland Health Guideline: Vaccination of health care workers (PDF, 156kB).
It is appropriate to implement a combination of controls to manage a workplace hazard. Control measures must be monitored and reviewed on a regular basis to ensure they remain effective. Refer to Department of Health Implementation Standard: Work health and safety risk management (PDF, 206kB) for details on this process.
Last updated: 11 July 2017