Syringe Driver Online Learning Package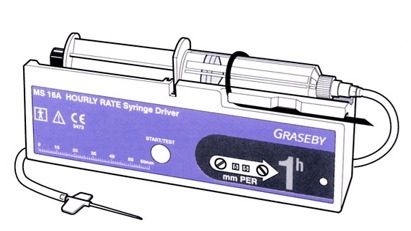 This self-directed learning package is for use in conjunction with CPCRE's 'Guidelines for Syringe Driver Management in Palliative Care' and the SIMS Graseby® MS16A and MS26 syringe drivers.
The learning package consists of the text and activities here on the website. It is designed to provide self-directed learning, and completion does not provide formal accreditation in this skill.
Note: The second edition of the Guidelines was released in December 2010. The Guidelines and accompanying subcutaneous infusion device education program are available at www.health.qld.gov.au/cpcre/subcutaneous
The current learning package will be retained for those services/facilities still using the Graseby, which has largely been replaced by other devices.
For current information regarding use of Graseby and other infusion devices,
see Syringe Driver Update.
Disclaimer
The information on this website is presented by the Centre for Palliative Care Research and Education (CPCRE) for the purpose of disseminating health information free of charge for the benefit of healthcare professionals.
While CPCRE has exercised due care in ensuring the accuracy of the material contained on this website, the information on the site is made available on the basis that the CPCRE is not providing professional advice on a particular matter.
This website is not a substitute for independent professional advice.
CPCRE does not accept any liability for any injury, loss or damage incurred by use of or reliance on the information provided on this website.
This package is intended to support clinicians to develop the knowledge of key principles in this field. It is expected that healthcare professionals would seek appropriate supervision and advice from experienced clinicians to ensure they have developed an appropriate level of clinical competence prior to caring for patients with these devices.
Background and rationale:
Syringe drivers are power driven devices that drive the plunger of a syringe at an accurately controlled rate to deliver medications. Their use as a method of drug delivery to control palliative care symptoms is a common and accepted practice. They provide symptom control via infusion of drugs to treat pain and other distressing symptoms when other routes are inappropriate or ineffective.
Many medications used in syringe drivers have narrow margins of error, so any errors that occur during prescription, preparation, administration or documentation of these infusions can result in serious adverse drug events and present an on-going risk for patient safety.
Successfully completing this package will provide you with the beginning knowledge and principles to assist you to develop skills in using syringe drivers safely.
Aims and objectives:
The aim of this self-directed learning package is to assist you to develop knowledge and skills of the basic principles of care for patients with syringe driver devices.
How to use this self-directed learning package:
It is suggested you work through each section in turn. Read the information and the section of the guidelines recommended, before you proceed to the activities. After each activity, a series of questions will enable you to test your understanding. The answers to these questions and activities can be found by reading the 'Guidelines for Syringe Driver Management in Palliative Care' booklet available as a pdf document from this website.
Equipment
You may find it useful before taking the quiz to have access to relevant equipment such as a calculator, ruler, and if you wish, Terumo and BD syringes of various sizes, though you will find tables with syringe related information in the Guidelines.
Learning objectives:
Following successful completion of this package, you will be able to:
Discuss the indications and contraindications of syringe drivers in palliative care;

Explain management and safely principles when using syringe drivers;

Discuss principles for appropriate and inappropriate site selection for insertion of cannulas;

Describe strategies for preventing site related problems;

Identify drugs commonly used in syringe drivers, and their indications for use;

Provide accurate information and education to patients using syringe drivers and their families;

Safely monitor the patient with a syringe driver in situ.
Section 1: The Patient Experience
Section 2: General Equipment
Section 3: Selection and Preparation of the Site
(Links to new subcutaneous infusion device education area; use back arrow to return to this page)
Section 4: Drugs and Diluent
Section 5: Patient/Family Education
Section 6: Patient Assessment & Troubleshooting
Last updated: 2 October 2015