Inala Indigenous Health Service - Health Checks for Children and Adults

A kind health worker, who lived at the bottom of a waterfall in the Inala catchment area, one day was horrified to see a child falling from the top. She rushed into the swirling waters below to pluck the little jarjum out, just in time. The following week, over the edge plummeted an old woman, whom the health worker rescued and nurtured back to health with bush tucker and chicken soup.

However, the very next day, down splashed a young man, who at least landed safely, soon followed by his grandfather, who didn't. The health worker cried out to a neighbour for help. Before long, they established a permanent roster of generous friends and workers to treat all the injuries and near-drownings. Those Inala mob make deadly helpers!

Finally, one day, the frustrated health worker said 'I've had enough! I'm out of here,' and started packing her bags. Her neighbour scolded her, saying 'These poor people desperately need you here!'

'No they don't,' said the health worker, packing in her swimming togs and a life buoy (and a few Medicare claim forms). She pointed to the top of the waterfall. 'They need me up there!'

We believe that providing good medical care when you are sick is only half the story.
Many Aboriginal and Torres Strait Islanders health services around the country are under so much pressure treating people at the bottom of the waterfall that it's hard to find time to walk upstream. Our service is lucky enough to have the time and resources to spend a lot of effort at the top of the waterfall, before people get sick.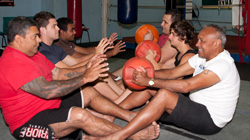 Men Exercising



That's why we do so much health research, and why we aim to do a general health check on every patient, every year. These health checks don't only look at your blood pressure or blood sugar; we also ask about your diet, smoking, alcohol, exercise, mental health and stresses. That way, we might be able to suggest ways of helping you and your family prevent illness happening in the future.

We want to become partners with you when it comes to staying healthy. You're the one who might have to work to achieve your health goals, but we have a lot of experience in helping you get there.


Risk factors
When something gives you a bigger chance of getting sick, we call it a 'risk factor'. Smoking is a well known 'risk factor' for heart attacks and lung cancer. Some risk factors are beyond your control--e.g. if many family members have had bowel cancer, you might be at increased risk. However, other risk factors are within your control. For example, walking for just 30 minutes every day, even if you don't manage to lose any weight, has huge health benefits.

The gap between the life expectancy of Indigenous and non-Indigenous Australians is shameful and tragic. However, much of this gap could be closed just by closing the gap in 'risk factors'--e.g. reducing smoking and obesity. That doesn't mean it's easy, but it IS possible, and that's what we often discuss during health checks.


Confidentiality
Everything you tell the doctor or nurse at a health check will be kept strictly confidential in your private medical notes, as you would expect.
However, we may also ask you if you would like to sign a consent form that allows us to use some of your information to help our research. We might want to calculate, for example, what percentage of our patients have diabetes. This information is completely 'de-identified'; we remove your name and anything which could identify you before we collect our statistics.

You do NOT have to consent for our research by signing this form. If you choose not to sign, it will NOT affect your health check or your follow up treatment in any way.

Please discuss this with your doctor if you have any concerns.
---
Although care is taken, this site, and links from it to third-party sites, may possibly contain the names or images of people who have passed away, which may sadden and distress some Aboriginal and Torres Strait Islander people.
Website editor: Justin Coleman
Last updated: 20 May 2013