MASS and the National Disability Insurance Scheme (NDIS)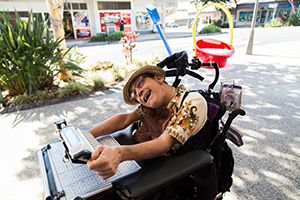 The Medical Aids Subsidy Scheme (MASS) is a statewide service that provides eligible Queenslanders with subsidised access to medical aids and equipment. The introduction of the National Disability Insurance Scheme (NDIS) will impact how some people access these supports in the future.
Who is impacted?
The NDIS only applies to people with disability, aged 64 years and under, who:
have a significant and permanent disability that affects their ability to participate in the community and employment
require care and support, or could benefit from early intervention requirements
meet Australian residence requirements and
live in one of the nominated Local Government Authorities (LGAs).
Queenslanders who do not meet these eligibility criteria are not affected by the rollout of the NDIS and can continue to access services and subsidies coordinated by MASS.
A Queensland Transition to NDIS document is available with information on each roll out zone's final date for applications to MASS.
A MASS - NDIS Frequently Asked Questions (FAQ) document is available to answer common questions from clients transitioning from MASS to the NDIS.
How does the NDIS work?
The NDIS gives participants choice and control over their disability supports, including being able to choose who provides supports and how they are delivered and managed.
Funding is provided for reasonable and necessary supports, such as assistive technology (AT), that allow participants to engage in everyday activities and link with their community.
Can NDIS participants access MASS services?
MASS is registered as a service provider with the NDIS. MASS can provide a range of assistive technologies for NDIS participants who choose to have MASS listed as their Service Provider on their NDIS PLAN.
As a service provider, MASS offers certainty and reliability for consumers with well-established systems and supplier relationships, and assistive technology products that meet Australian and/or International Standards requirements (some low risk items are excluded).
MASS is also able to assist with any required repairs and maintenance. NDIS participants need to ensure that repairs and maintenance of assistive technology is included in their NDIS PLAN.
To discuss how MASS can assist in providing the supports approved in NDIS participant plans, email: MASS-NDIS@health.qld.gov.au
Further information about the NDIS
The NDIS is being progressively rolled out in Queensland between 2016 and 2019. People will move to the NDIS at different times depending on which local government area they live in.
General information about the NDIS in Queensland, including information sessions and events around the state, and an interactive roll-out map, can be found on the Queensland Government website.
Further information can also be found on the NDIS website.
You can also access:
Information for health professionals - NDIS Assistive Technology
NDIS has divided Assistive Technology (AT) into four (4) categories based on a complexity level classification ranging from 1 to 4 with 4 being the most complex.
The NDIS webpage also contains a downloadable word version of the category classification.
NDIS have developed an assessment form for category 3 and 4 AT for an appropriately qualified health professional to complete, e.g. physiotherapist, occupational therapist, etc.
For category 2 AT an assessment is not normally required with the exception of continence requirements where an initial and review assessment will be required to choose the appropriate items. Download the continence form.
In addition the following links can provide some of the frequently asked questions and the NDIS Assistive Technology Strategy for those interested:
Further information can be found on the NDIS website.
Last updated: 23 September 2016