Happy Teeth Program
About the program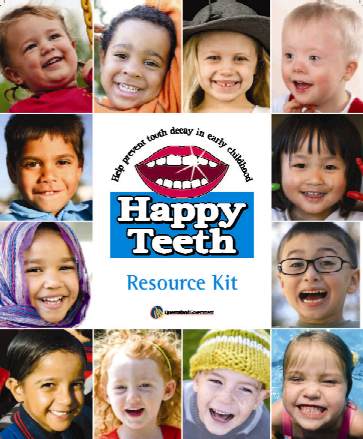 The Happy Teeth program was developed by early childhood specialists and oral health professionals especially for the early childhood setting. The program is based on evidence that healthy teeth and gums are important for good health. In order to prevent tooth decay and gum disease, daily tooth brushing habits and healthy eating should commence early in life.
Resources and Ordering Process
The Happy Teeth Resource Kit is being reviewed and updated in 2019. Hard copy versions of the Happy Teeth Resource Kit are currently out of stock, however you can download your copy of the current Happy Teeth manual here.
Pamphlets
Posters
The following posters are available for downloading and are included in the 'Happy Teeth' Kit. These resources can be used to support the promotion of good oral health but should not be used for promotion of private dental practices.
Click on one of the following images to view a larger version. To return to this page, click on the web browser Back button.
| | | |
| --- | --- | --- |
| Dental Visits 1 | Dental Visits 2 | Dental Visits 3 |
| Dental Visits 4 | Healthy Eating | Healthy Snacks |
| Healthy Child Care | Healthy Drinks | Smiles 1 |
| Smiles 2 | Healthy Meal | Healthy Food |
How to Brush
These stickers are included in the Happy Teeth Kit.
Last updated: 20 April 2016