Ultraviolet radiation (UVR)
UVR protection
To create an environment that reduces exposure to UVR:
Provide protection at the sides of shelters using solid barriers including toughened glass, louvers, overhangs or vegetation.
Consider the size of a shade barrier and the position of the users underneath it. Choose materials that help reduce the overall level of scattered and reflected UVR in the environment.
Avoid off-loading reflections onto other people and neighbouring places.
When choosing materials, consider:
Density – hard surfaces such as paving reflect higher levels of UVR than softer surfaces such as grass or soil.
Surface finish – smooth surfaces such as glass, aluminium sheeting or smooth concrete will reflect higher levels of UVR than coarse surfaces such as unpainted timber cladding, terracotta tiles, roughened concrete or brick paving.
Surface colour – lighter colours will reflect higher levels of UVR than darker colours. Limit reflective ground surfaces such as white concrete and white sand. When choosing surface finishes for walls and eaves, use matt and darker colours.
UVR exposure
Solar UVR can reach you on the ground from 3 sources:
Directly from the sun
Scattered from the open sky
Reflected from the environment.
This means that you can still receive substantial UVR exposure, even when shaded from direct sun. UVR is scattered and reflected by various environments, such as light-coloured concrete, snow, sand, water, and particles in the atmosphere.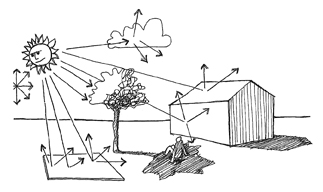 Source: Shade for sports fields, Planning sun-safe outdoor environments in Queensland (page 53).
UVR reflectance levels of common materials
This table shows UVR reflectance of various landscapes and common materials measured during a Queensland summer:
| Surface | Reflectance (%) | Notes |
| --- | --- | --- |
| Grass | 1.1 | Cricket oval, freshly mown |
| Artificial grass | 1.9 | Cricket pitch, practise nets, green in colour |
| Black cloth | 2.5 | 50% cotton, 50% polyester |
| Painted bitumen | 4.3 | Multipurpose sports court |
| Asphalt | 4.5 | Aged rough roadway |
| Water | 6.4 | Swimming pool, various depths |
| Concrete | 6.6 | Footpath, aged |
| Beach sand | 9.4 | Yellow, dry, flat |
| White paper | 12.5 | Smooth, plain |
| White cloth | 15.6 | 50% cotton, 50% polyester |
Last updated: 20 April 2016