April No Falls 2022
April No Falls is an international campaign that aims to educate and raise awareness of falls prevention helping Queenslanders stay healthy, active, independent and on their feet.
Falls prevention is a part of the Australian Commission on Safety and Quality in Health Care's Comprehensive Care Standard. The Comprehensive Care Standard aims to ensure that patients receive coordinated health care that aligns with their goals of care meeting their individual needs. It also aims to ensure that risks of harm for patients during health care are prevented and managed through targeted strategies. The risk of falls and harm from falls varies between individuals because of differences in factors such as eyesight, balance, cognitive impairment, muscle strength, bone density and medicine use.
This April No Falls, the focus is on the Comprehensive Care Standard, which includes falls prevention, and provides resources for consumers and clinicians (under the two tabs below) to support comprehensive care and simple steps patients can take to keep themselves safe during their stay in hospital.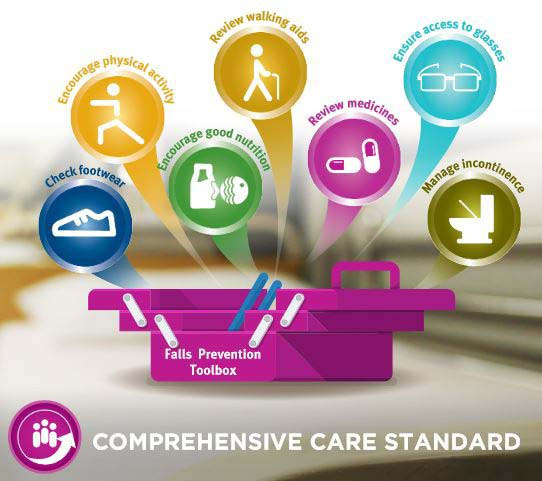 Stay safe information sheet outlines some simple steps you can take to keep safe during your stay in hospital, including information on preventing falls, blood clots, infections, and pressure injuries; medicines; patient identification; concerns; discharge; and things to look out for at home.
Last updated: 1 April 2022