Bundaberg Hospital Redevelopment Project
Bundaberg Hospital Redevelopment Project
In mid-2019, the Queensland Government announced $6.7 million to develop a detailed business case to investigate the delivery a brand new, state-of-the-art public hospital on a greenfield site in Bundaberg.
On 29 July 2020, the Premier announced the preferred site for a new hospital, enabling the next stages of analysis in the business case to take place.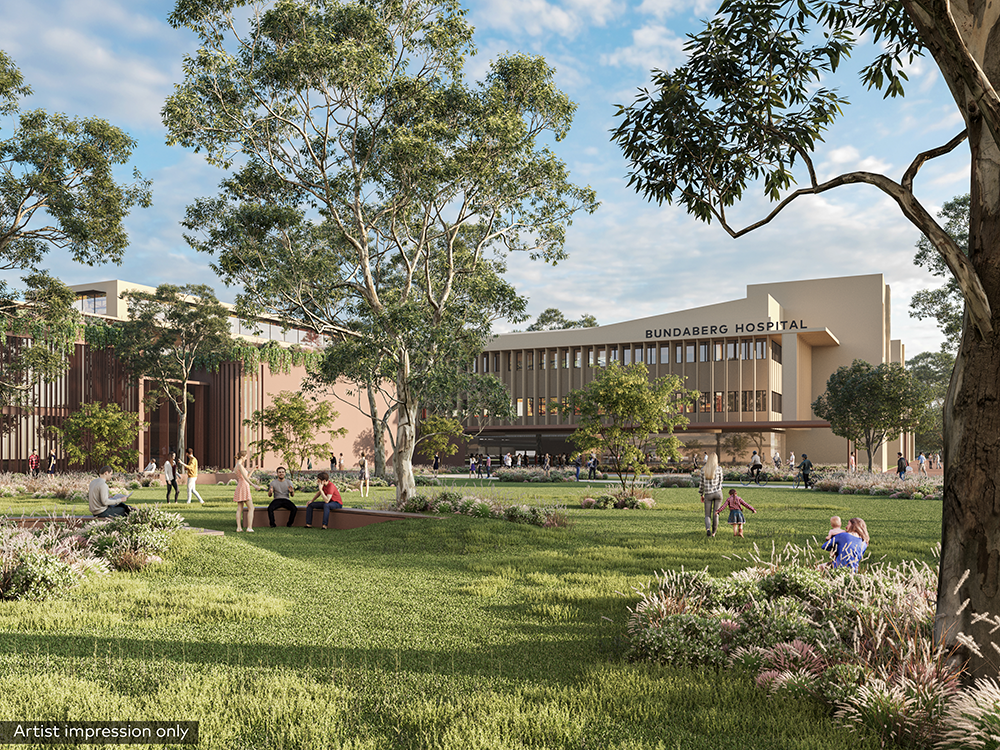 | | | |
| --- | --- | --- |
| | Background | |
Bundaberg Hospital has operated from its current site since 1914 and, while it has served the region well since this time, it is close to capacity and opportunities to expand healthcare services are limited.
The existing riverside campus is made up of facilities in generally a sub-optimal condition and with limited functionality. It comprises a variety of old buildings, with some dating back to 1911, and piecemeal developments undertaken to address urgent service needs of the time. This has resulted in poor functional relationships between key departments that impact on efficient hospital operations, the quality of clinical care and the patient experience. Furthermore, that hospital site is affected by flooding.
Our region's population is also both growing and ageing, meaning more people with more complex health conditions will be relying on our health system.
In time, all of these pressures will place significant strain on our critical services, so it is imperative that we plan early to strengthen our public healthcare system, to ensure it can adequately accommodate the changing and growing healthcare needs of our local communities.
In November 2017, the Queensland Government invested $3 million toward a preliminary business case to investigate a new or refurbished hospital. Completed in April 2019, it recommended that a new hospital on a new site would best meet the future health needs of the region. The preliminary business case was approved June 2019, with funding granted to move to the next stage in the process – the detailed business case.
The detailed business case involves identifying a preferred site for a new hospital and providing a greater level of analysis to help the State Government make informed decisions about the hospital's future design, staging and funding.
Wide Bay Hospital and Health Service is leading the preparation of the detailed business case, with the support the Department of Health and the Department of State Development, Infrastructure, Local Government and Planning. The detailed business case is expected to be presented to the Queensland Government in 2021 for consideration.
In the meantime, a further $15 million is identified in the Queensland Budget papers 'for the purchase of the preferred site for the proposed Bundaberg Hospital Redevelopment and associated project costs to enable detailed site planning in preparation for the first stage of the project'.
| | | |
| --- | --- | --- |
| | Benefits | |
Future-proofing our public healthcare system to meet the needs of the Bundaberg, Fraser Coast, North Burnett and broader Wide Bay Burnett communities
New and expanded healthcare services, delivered closer to home
Contemporary healthcare models that better meet the changing and growing needs of our communities
A more sustainable and tranquil environment that is culturally appropriate and promotes health and wellbeing
Advanced technology that provides a seamless patient journey through the health system
An enviable workplace that encourages our experienced and talented health professionals to stay and attracts new talent to our team
A boost to the local economy through the provision of jobs
| | | |
| --- | --- | --- |
| | The process | |
The detailed business case process involves:
Selecting a site
An Expression of Interest process to see if, in addition to state-owned land, there are any suitable privately owned or local government-owned land options
Developing a detailed masterplan
Including facility size and design, supporting services and infrastructure needs, hospital access, car parking and cost analysis
Workforce planning
Continuing to plan for the significant growth in a broad range of health roles and support services
Community and stakeholder engagement
Involving clinicians, private partners, government and non‑government agencies, consumers and community members.
| | | |
| --- | --- | --- |
| | Project progress | |
Master plan and concept layouts have been developed following a robust consultation process involving more than 100 local clinicians, operational staff and a range of community members.
A series of 'user group' sessions have been ongoing since March 2020 to determine the location of each department within the new hospital, as well as how each will operate and specific design requirements.
The following concept layouts will be showcased online until 14 February 2021 and through public information displays and pop-up sessions.
We encourage you to review the layouts and provide feedback. This will help the project team to identify opportunity and challenges with respect to the proposed layouts, and to better understand community expectations for the entire project.
Community engagement
A community consultation period occurred between November 2020 and mid-February 2021 to help guide development of the detailed business case.
We are committed to keeping you informed as we progress further through the detailed business case. As always, we welcome feedback from our staff and community at any time.
In an effort to provide you with as much information as possible, we have developed a series of Frequently Asked Questions that relate to each stage of the project so far and will continue to be updated. Click on the links below to see each FAQ.
Frequently asked questions
| | | |
| --- | --- | --- |
| | Business case process | |
Preliminary business case
What did the preliminary business case investigate?
The preliminary business case, completed in April 2019, considered redeveloping the existing Bundaberg Hospital site and a greenfield development on a new site. The Queensland Government decided that the preferred development option is a greenfield site.
Detailed business case
Why is a detailed business case necessary?
The detailed business case builds on the analysis undertaken as part of the preliminary business case and provides a more comprehensive analysis of the preferred option, including social, economic, sustainability and financial impacts.
As well as selecting a preferred site, the detailed business case will consider options to stage the construction to enable some services to be brought online earlier.
In addition, the detailed business case sets up the commercial and management arrangements for the successful procurement and delivery of the project.
Extensive work on the hospital design for clinical areas will also be completed as part of the detailed business case.
When will the detailed business case be completed and what happens next?
The detailed business case is expected to be presented to the Queensland Government in 2021 for consideration. The business case will help the state government make informed decisions about the hospital's future design, staging and funding.
| | | |
| --- | --- | --- |
| | Delivery of the new hospital | |
How will the project be funded?
Delivery model analysis is a key component of the detailed business case. The selection of the preferred delivery model will take into consideration risk, operational impacts, environmental requirements and value for money.
How many beds will the new hospital have?
Potential bed numbers will be analysed as part of the detailed business case, including staging the construction so some services could be brought online before the project is completed.
What happens during schematic design?
Once the concept design is complete, schematic design allows for significant involvement from doctors, nurses and users of the health facility to ensure the proposed hospital delivers state-of-the-art health care.
Use of local contractors?
The capacity of the local market to deliver the construction will be part of the analysis and opportunities will be explored to give local contractors the best opportunity to win work, when and if the project is funded by the State Government.
How many jobs?
A new hospital will provide substantial economic benefits for the local area through the creation of new health and construction-related jobs.
How much will the hospital cost?
This will be reviewed in detail as part of the detailed business case.
When will the hospital be built?
The detailed business case is expected to be presented to the Queensland Government in 2021 for consideration. The business case will help the government make informed decisions about the hospital's future design, staging and funding.
What will happen with the old hospital?
This will be reviewed in detail as part of the detailed business case, including staging options.
| | | |
| --- | --- | --- |
| | Site selection | |
Where would the new hospital be located?
The preferred site is state-owned land to the west of Kay McDuff Drive, about 5km south of Bundaberg's central business district.
What are the benefits of the preferred site?
Key features and benefits of the preferred site include:
Size – It's about 60 hectares in area, which will provide opportunities for future growth and expansion as needed.
Flood protection – It's on higher ground, and accessible during flooding.
Accessibility – It's close to several key roads, providing opportunities for multiple access points.
Natural attributes – It's large and relatively flat, providing the opportunity to develop a health and education precinct over time, and also offers a natural environment that is peaceful and open, promoting healing and recovery.
Access – The site is suitable for helicopter access, close to the airport and new Aeromedical Base, and close to the emergency services complex on Wyllie Street as well as education providers.
Convenience – Due to its proximity to major roads, the site is well located for patients, carers and families from across the Wide Bay Burnett region who are travelling to access specialist health services in Bundaberg.
How was the site chosen and how many other sites were considered?
Extensive investigations were undertaken to identify and review suitable sites in and around Bundaberg for a hospital that meets the long-term needs of our communities.
The comprehensive evaluation process considered more than 40 sites, including more than 20 privately-owned sites put forward through a publicly advertised expression of interest process.
A multidisciplinary team of technical experts identified the site as being the most suitable, after assessing it against criteria vital to developing and future-proofing a new hospital.
Is the site close to emergency services?
Yes. The site is central to the emergency services complex on Wyllie Street, the Queensland Ambulance Station on Bourbong Street and the new Aeromedical Base at the airport, which are all within about 5km.
Is the site affected by flooding?
One of the key criteria for the new hospital site was that it had to be at or above a 0.2% annual exceedance probability (AEP). The AEP is the standard way to describe flood likelihood in Queensland and provides a percentage chance that a flood of a given size or larger will occur in any given year. A flood with a 0.2% AEP has a one in 500 chance of being exceeded in any given year.
Does the site allow for safe helicopter access?
Investigations to date have identified that the site is suitable for helicopter takeoff and landings.
The project team will be engaging with the Civil Aviation Safety Authority and Bundaberg Regional Council regarding flight path and helicopter operations to further inform the business case.
Does the site allow for future expansion when needed?
Yes. Having a site of around 60 hectares in size provides us with the flexibility needed to accommodate future growth and expansion. It also provides space to allow for opportunities to collaborate to increase economic, community and social value by co-locating with other services, including education and research.
What consultation has occurred so far regarding site selection?
Consultation with senior technical representatives from several organisations was undertaken as part of the site selection evaluation process and due diligence investigations. The project team will be continuing those discussions as it progresses further through planning and design activities for the business case.
Have impacts to nearby properties and businesses been considered?
Investigations suggest that adjacent developments will be minimally impacted by the proposed hospital development, although we acknowledge there may be disruptions during a future construction phase. We would consult and work with surrounding properties and businesses to ensure any impacts are minimised.
Will the business case consider road and utility infrastructure connections?
Yes. To help understand the impacts of the hospital project, the project team is engaging with a variety of service providers, including the local council, to identify what supporting infrastructure works are likely to be required and associated costs.
Engagement will focus on campus roads and car parking, external road upgrades and connections, utility connections (such as electricity, water, drainage sewerage and telecommunications), and other site infrastructure. These works will be factored into the potential capital cost and help to inform the detailed business case.
Has the provision of public and active transport been considered?
Yes. Public passenger transport and active transport (such as cycling or walking) options are being considered as part of the detailed business case. We recognise that their integration to the hospital site will be a community priority. Providing accessible, safe, efficient and attractive travel alternatives to private motor vehicles is a high priority for the project team and we intend to explore these opportunities further with relevant parties.
What approach is there on environmental management and cultural heritage?
We'll be completing an environmental assessment report as part of the project and are committed to maintaining the site's character and surrounds through the natural environment.
We'll also be engaging with the local cultural heritage party regarding a potential archaeological survey to inform the development of a cultural heritage management plan to support the project.
What about sustainability?
The project's principal consultant is exploring a range of environmentally sustainable initiatives.
Some initiatives include maximising access to natural daylight and ventilation, the use of innovative building features, sustainable materials and passive solar techniques. The design will also take into account energy use, long-term carbon sequestration and integrating green spaces throughout the precinct.
The site is near an industrial area – will this have any impacts?
The site has been selected with consideration to surrounding land uses.
Investigations to date indicate that given the distance between the site and surrounding industrial activities, anticipated impacts will be negligible. Our architects are developing a master plan that proposes to incorporate vegetation buffers that will address impacts such as air, light and noise.
The site's masterplan and the hospital design will take the surrounding users into account to ensure, as much as possible, that the hospital does not encroach on its neighbouring users.
Does the site allow for safe access to adequate parking? Will we have to pay?
Car parking is fundamental to any hospital design and it played an important part in determining the preferred site. The large site will allow for ground level and/or multi-storey parking options to support the new hospital. Parking will be examined as a separate project but will closely align with the redevelopment.
We recognise the challenges our patients, carers, visitors and hospital staff face with the limited parking at the existing hospital, so providing safe, accessible, sufficient and affordable parking is a high priority.
Is the site an environmental reserve and will there be tree clearing?
The site is owned by the Queensland Government and is currently held as an environmental reserve. All environmental legislation will be complied with in planning for this essential infrastructure, including state and federal legislation relating to tree clearing.
Given the scale of the site, the design team is working to incorporate as much of the existing tree coverage into the design as possible to create a natural healing environment for patients of the new hospital.
Will there be direct access to the site from the Bundaberg Ring Road given it is a designated limited access road?
The detailed business case will consider the most appropriate access solutions to the surrounding road network to ensure we make the most of the site's strategic location and accessibility for staff, patients and visitors.
| | | |
| --- | --- | --- |
| | Health services | |
What exactly is a Level 5 hospital, or Level 5 services?
The term 'level 5 hospital', used in earlier phases of project planning for the Bundaberg Hospital Redevelopment project, is a shorthand way of explaining that the proposed hospital would work towards providing predominantly level 5 services, as defined by the Clinical Services Capability Framework (CSCF).
In simple terms, the CSCF outlines the level and complexity of clinical and support services a hospital may provide, with the levels referring to individual services (such as an emergency department or medical imaging) rather than a whole health facility. The framework is a technical document used by a broad audience of health professionals such as clinical staff, hospital managers and health services planners.
As we've moved into more detailed planning stages – including public consultation – we've moved away from using technical jargon such as CSCF levels in an effort to provide clearer explanations, to ensure our communities understand what the proposed changes will mean for them.
Currently, Bundaberg Hospital provides a small number of Level 5 services (such as Cancer Care or Mental Health). It is intended that many more of these higher-level services would be delivered by the proposed new hospital in Bundaberg.
I keep hearing that plans for a new hospital are being downgraded. Is that true?
Rest assured; our CSCF planning hasn't changed.
During preliminary business case (PBC) investigations back in 2018-19, we undertook extensive consultation with the Department of Health, statewide clinical networks and clinician groups and other HHSs to determine the proposed changes.
The Level 5 services that we are currently working towards providing in the future, are the same Level 5 services identified during PBC investigations. Likewise, we're using the same CSCF framework (v3.2), which has been operating and in place since 2014.
Our region's population is both growing and ageing, meaning more people with more complex health conditions will be relying on our health system. Consequently, we remain committed to increasing local access to general and specialist services that can treat more complex cases and higher patient volumes, where it's safe and sustainable to do so, to provide care closer to home.
What services will be provided?
As part of the proposed hospital redevelopment, we are planning to provide a comprehensive range of care across medical, surgical, emergency, acute mental health, outpatient and diagnostic fields.
We plan to increase local access to several services that could treat more complex cases and higher patient volumes to meet projected health service demand, where it is safe and sustainable to do so, along with introduce several new services.
Providing more specialist services closer to home will reduce the need for many patients to travel for care outside the region.
Through preliminary and detailed business case investigations done so far, local specialty areas whose clinical service capability could be enhanced or increased include emergency medicine, intensive care, renal medicine, cardiology, general medical and surgical services and other sub-specialties such as endocrinology and gastroenterology.
This project is about future-proofing our public healthcare system and providing a new state-of-the-art hospital on a new site to better meet the changing and growing needs of our communities.
What about education and research?
Education, training and research is integral to the proposed new hospital, and an important enabler of workforce recruitment, retention, and continuing professional development and skills maintenance.
WBHHS is currently developing a regional medical program in partnership with Central Queensland HHS, CQUniversity Australia and The University of Queensland.
The program will enable students to complete their full medical education locally, producing homegrown doctors in Wide Bay and Central Queensland.
We see this program as a key enabler to growing our own doctors and improving our local medical workforce sustainability, as doctors who have trained in regional hospitals are more likely to continue to work in these hospitals.
While the medical program is being developed as a separate project to the redevelopment, both project teams will be working in close alignment to ensure that infrastructure delivered through the redevelopment supports our ability to develop our future health workforce regionally and locally.
Project updates
Latest news
| | |
| --- | --- |
| | Mail: Bundaberg Hospital, PO Box 34, Bundaberg Qld 4670 |
Last updated: 2 August 2021