New COVID-19 advice system given green light
31 October 2022
A new traffic light advice system will provide Queenslanders with information on the current COVID-19 threat, including guidance on when and where they should wear masks.
Chief Health Officer Dr John Gerrard said the COVID-19 traffic light system would simplify health messaging, in an era where living with COVID-19 is the reality and no longer treated as a public health emergency.
"Queenslanders have been dealing with COVID-19 for almost three years now, and all the way through they have shown an eagerness to do the right thing to protect themselves, their families and the community," Dr Gerrard said.
"This new COVID-19 traffic light system will provide Queenslanders with an easy-to-understand guide to the level of risk posed by the virus and provide advice on when they should consider increasing their personal protective measures, such as wearing masks indoors, or when they can relax things a bit."

Dr Gerrard said there were three levels in the new system – green, amber and red – and these levels would be communicated to the public via the Queensland Health website, social media accounts and through the media.
"When there are low rates of community transmission the traffic light setting will be green," Dr Gerrard said.
"If you're asked to wear a mask – for example, by a healthcare provider, or if you're providing care to a vulnerable person – we ask that you cooperate with that request.
"If community transmission increases to moderate rates, the traffic light will change to amber.
"Queenslanders will be advised to wear masks in healthcare settings, indoors when they can't socially distance, on public transport, if they are older, immunocompromised or have other health issues, or if they are around people who are vulnerable to COVID-19.

"Close contacts will also be advised to take a rapid antigen test (RAT) every two days.
"Should we reach the stage where community transmission gets back to high rates, we'll change the traffic light setting to red.
"When the traffic light is red – the highest of the three levels – people will be advised to follow all the advice for the amber and green colours, as well as wearing a mask while indoors, even when they can socially distance.

The traffic light setting will be reviewed regularly, and the level will move up, down or stay the same depending on the rate of COVID-19 transmission in the community at the time.
Queensland's traffic light system levels correspond with the tiers in the national COVID-19 community protection framework for a COVID safe Australia.
At 6pm tonight (Monday 31 October 2022), the last remaining Chief Health Officer public health directions will be revoked. Hospitals will revert to existing infection control practices, rather than mandatory mask wearing.
The introduction of the traffic light system comes as Queensland's declared public health emergency for COVID-19 officially ends tonight (Monday 31 October 2022).
From tomorrow (1 November 2022), the Chief Health Officer will have limited powers to mandate mask wearing, require isolation for people with COVID-19 and quarantine for symptomatic close contacts, and mandate vaccinations for workers in certain settings. If these powers are used, they would supersede the traffic light advice system.
COVID-19 will continue to mutate so it is important Queenslanders remain vigilant and responsive and do their part to limit the spread of the virus by staying at home when they are sick, washing their hands regularly and keeping up to date with their vaccinations.
For more information visit the Queensland Government website.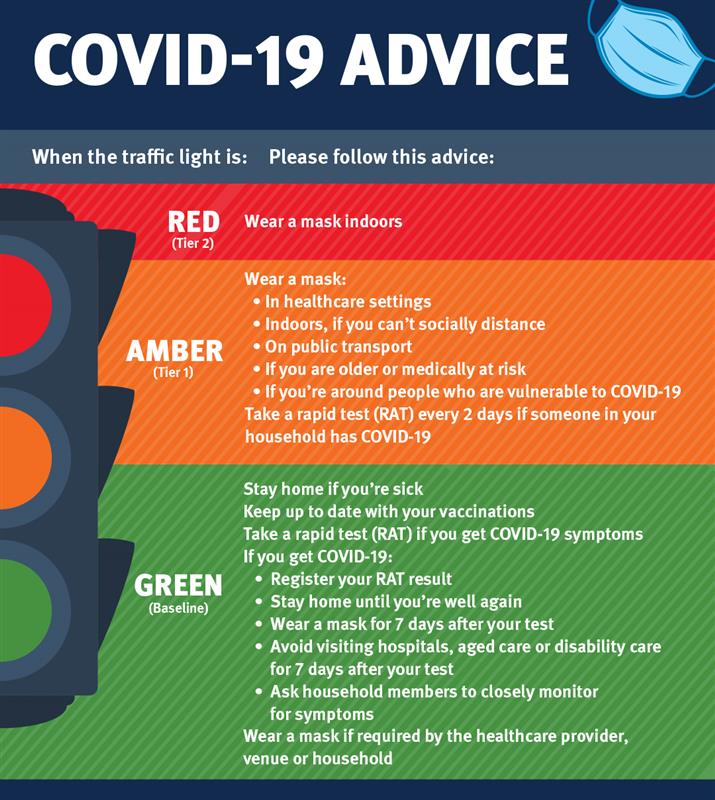 Last updated: 31 October 2022