A day in the life of a nurse navigator
Wednesday 28 June 2023
When we think of the typical work of a nurse, we often imagine them at a patient's bedside in a hospital ward.
But when you're a nurse navigator, a car often forms an essential part of your medical kit, taking your work from the hospital into patient's homes, general practitioner (GP) clinics, and to other community services that support a patient's needs.
We spent time with nurse navigator Dan to gain an insight into what this specialist nursing role involves and how it's making a difference to our most vulnerable patients with complex healthcare needs.
Dan's day usually starts in his office—responding to email messages, scheduling appointments, writing patient notes, sorting referrals letters, and booking interpreters—but often, there are days when it kickstarts early with a phone message to support a patient who has presented to the emergency department during the night.
Today, Dan's first trip out of the office is to help a patient with transportation across town. Fatima, a South African woman in her late sixties, needed new hearing aids. She was initially quoted $13,000 for them but got helpful advice from her audiologist to buy them from a bulk-buy discount store.
With Dan's navigation and help, getting her there and back, she saved $10,000 for the same brand and model. After seeing the store's audiologist for the fitting, Dan takes her home and moves on to a home visit.
While most of Queensland's nurse navigators support a broad range of patients, some of the larger metropolitan Hospital and Health Services have specialty areas they look after. This could include patients with disability, particular cultural groups, movement disorders, drug and alcohol dependency, or mental health challenges.
Dan's work sits within a chronic disease management team with Metro South Health, looking after culturally and linguistically diverse patients, and Aboriginal and Torres Strait Islander men who are more comfortable liaising with a male clinician about their healthcare.
His next patient, Samuel, is a fifty-year-old award-winning Indigenous poet and writer who, between the age of 38 and48 years, experienced four strokes. With each stroke, Sam spent months recovering in the Princess Alexandra Hospital's Geriatric and Rehabilitation Unit (GARU) and after the third stroke in 2019, he now uses a wheelchair. Despite being affected by daily nerve pains and dysarthria, a speech disorder caused by muscle weakness, he lives independently with the assistance of daily carer visits and other National Disability Insurance Scheme (NDIS) services.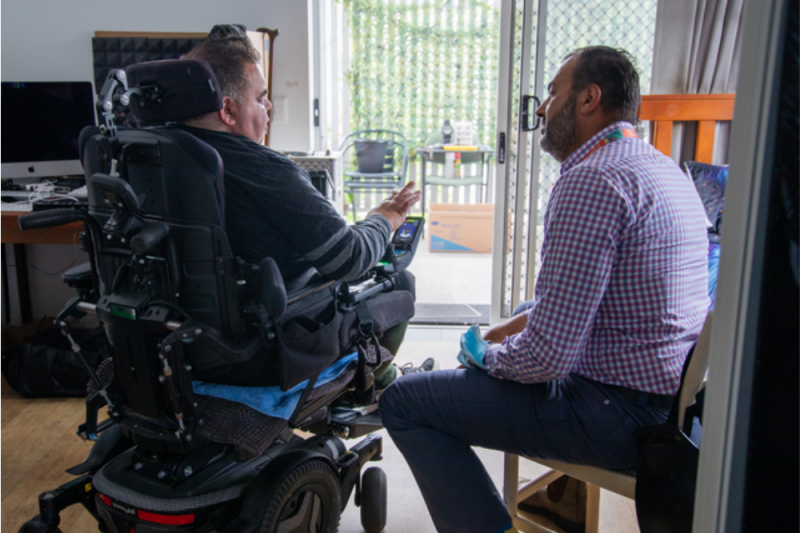 Sam receives occasional support from Dan to coordinate healthcare services between his GP, hospital services, liaising with his NDIS carers, physiotherapists, and occupational therapists, and a check in on his mental wellbeing throughout these challenges.
Having a nurse navigator has not only given Sam a central medical point of contact with broad oversight into his healthcare, but he is also reassured that he is there to support him on this part of his journey.
'What I liked, when I met Dan, I had just gotten over several years of pretty bad anxiety . . . having a brain injury . . . Dan spoke the same language as myself and other patients I knew who had gone through the same thing. But when I went to my GP, Dan had a bit of a rapport with my doctor as he knew who my GP was, and I didn't have to have a fear of going to doctors, knowing Dan was in my corner,' Sam said.
'Dan's part of my regular network. I don't want to be thinking about my health 24/7, but there are things I need to do, things I have to do weekly, to stay on top of my condition. Dan's part of my program.'
While Dan's visiting Sam, the friendly rapport is mutual, and it feels more like a yarn between brothers than a clinical home visit. As Dan checks Sam's blood pressure and pulse, the conversation wanders between asking how his family and children are going and whether he's had any social time out of the house, woven in with questions about his carers and advice on where he could buy an affordable blood pressure device.
Sam is grateful for the support and considers the relationship a two-way street.
'I don't want to let Dan down, and he doesn't want to let me down—this duty of care thing goes both ways,' he said.
Satisfied that Sam is doing well today and keeping on top of things, Dan heads off for a lunch break on the move as he travels to connect with his next patient.
Patients are referred to Dan from within the public health system in Metro South Health and occasionally from Children's Health Queensland and the Mater Hospital. Referrals come from clinicians such as doctors, nurses, specialists, and social workers who identify patients with obstacles and challenges to managing their healthcare. They also refer patients with complex needs needing extra support to navigate the healthcare system.
These might include people with chronic diseases or a range of health conditions to manage, patients who discharge against medical advice from hospital, those challenged with medication compliance, or those who may have language, cultural, or socio-economic barriers.
'There are people in real need and sometimes the system is not designed for these people. It's not just medical, it's also social that we are dealing with for patients, and their mental health and wellbeing as well,' Dan said.
When explaining his nurse navigating role to new patients, he tells the story using the analogy of a car on a journey.
'We're driving in a car. You've been driving in that car for so long, but the GP's not in the back. Let me just take the wheel for a bit. You sit in the passenger side and we will pop the GP in the back, and we'll drive the car to a specialist service station,' he said.
'Then we'll head to all the other servos to see all the other specialists . . . and then, I'm going to hand over the wheel and let you drive. I'll be in the passenger side, the GP's still in the back . . . and then eventually, we'll get the GP to sit in the front and I'll sit in the back seat.
'Then later you can drop me off and it can just be you and your GP driving on together. And then they go, "oh . . . I get it now."'
No workday is quite the same for a nurse navigator, as it tends to involve a mix of planned activities with occasional unplanned moments that need flexibility.
'I love it. Some patients you don't want to let go of them sometimes, because you build a bit of a relationship and it's just a little bit of tweaking to things, just checking in on them . . . keeping them afloat, keeping them okay, having a bit of a voice,' Dan said.
­More information
Last updated: 28 June 2023