Label an intense pulsed light (IPL) devices
All intense pulsed light (IPL) devices require radiation labels to warn people of the hazards involved with the radiation equipment.
The requirements for labelling an intense pulsed light device are described in the Australian Standard AS IEC 60601.2.57:2014 Medical electrical equipment - Part 2.57: Particular requirements for the basic safety and essential performance of non-laser light source equipment intended for therapeutic, diagnostic, monitoring and cosmetic/aesthetic use.
What labels IPL devices need to have

IPL devices require 3 types of hazard labels:
Labels need to be:
yellow with black text, borders and symbols
durable and permanently fixed to the equipment
legible and clearly visible during operation of the equipment
able to be seen without needing to be exposed to the light.
Where IPL labels should be placed
Labels types need to be placed in particular locations.

Larger IPL devices that have a generator separate from the handpiece should:
place a warning label and explanatory label on the control panel
place an aperture label on the handpiece (close to where the radiation is emitted).
IPL devices with control switches and aperture on the same device should have all labels placed on the device. If the size or design of the product makes labelling impractical, the label should be included with the user information or on the package.
Types of IPL risk groups and hazards
There are 4 types of IPL risk groups. IPL devices are classified by the eye or skin damage risk (photobiological hazard), wavelength and power output of the device.
The 4 types of risk groups are:
Exempt Group—do not require labels

there is no photobiological hazard.

Risk Group 1—low risk group

the risk is limited by the normal behaviour of the user of an IPL device.

Risk Group 2—moderate risk group

the risk is limited by the aversion response to very bright light sources or by thermal discomfort.

Risk Group 3—high risk group

the IPL is a hazard even for momentary exposure.
Examples of IPL device labels
The following types of labels should be placed on the IPL device so that they are clearly visible during operation, maintenance or service.
Warning and
explanatory

label examples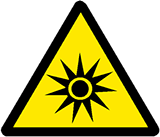 Warning label and explanatory label (non-specific example).
The label wording required by the standard depends on the nature of the hazard and on the risk group of the IPL device.
If the IPL equipment emits ultraviolet radiation that is a skin hazard (i.e. actinic or UVB/UVC radiation) the explanatory label needs to contain the words "Avoid skin exposure".
Emission
aperture

label

The following label should be positioned close to each aperture light is emitted through:



Wording for explanatory labels
Explanatory labels need to contain the wording shown in the examples below. The wording will vary depending on the nature of hazards and the risk group of the IPL device. IPL devices in the exempt group do not require labels.
Hazard

RISK GROUP 1 label

RISK GROUP 2 label

RISK GROUP 3 label

Actinic ultraviolet (UV)
(UVB & UVC)

RISK GROUP 1

RISK GROUP 2

RISK GROUP 3

CAUTION
UV emitted from this device

CAUTION
UV emitted from this device
Eye or skin irritation may result

WARNING
UV emitted from this device may be hazardous
Avoid eye or skin exposure

Near UV (UVA)

RISK GROUP 1

RISK GROUP 2

RISK GROUP 3

CAUTION
UV emitted from this device

CAUTION
UV emitted from this device
Eye irritation may result

WARNING
UV emitted from this device may be hazardous
Avoid eye exposure

Blue-light

Label not required

RISK GROUP 2

RISK GROUP 3

CAUTION
The light emitted may be harmful to the eyes
Do not stare at the light source

WARNING
The light emitted may result in eye injury
Do not look at the light source

Retinal thermal

Not applicable

RISK GROUP 2

RISK GROUP 3

CAUTION
The light emitted may be harmful to the eyes
Do not stare at the light source

WARNING
The light emitted may result in eye injury
Do not look at the light source

Retinal thermal, weak visual stimulus

Not applicable

Not applicable

RISK GROUP 3

WARNING
IR emitted from this device may cause eye injury
Avoid eye exposure

Corneal/lens infra-red (IR)

RISK GROUP 1

RISK GROUP 2

RISK GROUP 3

CAUTION
IR emitted from this device
Do not stare at the IR source

CAUTION
IR emitted from this device may cause eye irritation
Do not stare at the light source

WARNING
IR emitted from this device may cause eye injury
Avoid eye exposure
Last updated: 4 December 2020