Adobe interactive forms help
Changing the settings in Edge to force the use of Adobe to open PDFs
Current situation
Moving to Microsoft Edge Browser (the recommended browser now), comes with a challenge when opening certain interactive types of Adobe PDF files e.g., LiveCycle. However, they work without any issues in other browsers like Internet Explorer, Firefox, Google Chrome etc. For the vast majority of Informed consent PDF documents which are read-only, the default action is to open the document within the Microsoft Edge. If the PDF file is an editable form (such as interactive consent forms) then this fails, and the following message is shown.

To avoid this situation in Microsoft Edge
Option 1. (To open an individual document in that instance)
Step 1. click on the three dots on the top right side of your screen when you get the above message
Step 2. Select "Reload in Internet Explorer mode"
Alternatively, your Edge browser may contain an icon with a box and "e" like the Internet Explorer logo to "Reload in Internet Explorer mode".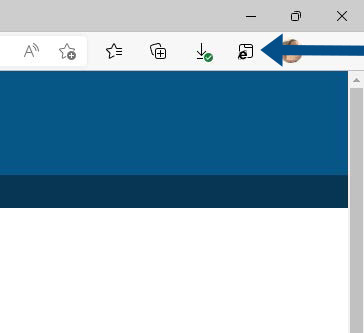 Changing the settings in Edge to force the use of Adobe to open PDFs
Option 2. (To open all future documents)
Change the settings in Microsoft Edge.
Step 1. click on the three dots ... in the top right corner of the browser
Step 2. select "Settings" from the pull-down menu.
Step 3. type PDF into the "search" box and scroll the right-hand window until you see the option "PDF Documents".
Step 4. click on the "PDF Documents" to open the options:
Step 5. click on the slider on the far-right to enable "Always download PDF files".
This changes the default option so that when you click on a PDF file, it now downloads it from the web and gives you the option to open with Adobe Reader (or Adobe Pro) first.
Download How to open Adobe interactive forms in Edge.
For further assistance opening PDFs, please contact your local IT support.
Last updated: 9 May 2023