People with disability - Julian's Key
What is Julian's Key?
Julian's Key is a patient/carer-controlled tool designed to improve communication and empower people with disability, their families and carers to be more involved in their healthcare.
The Julian's Key Health Passport includes patient information in order of critical, important and useful – in a format that can be shared efficiently with carers and health staff. It is available as a mobile application and PDF (to be filled electronically or printed and completed).
It gives health staff the information to provide person-centred care using a traffic light system. For example, informing if a patient needs help to eat or drink, or how they communicate: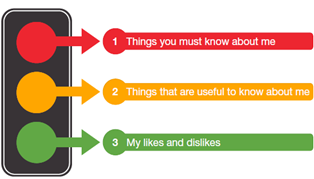 The Passport is a live document and may change over time. It was developed by West Moreton Hospital and Health Service and is named after a young man with disability who passed away in Ipswich Hospital in 2011.
Who is Julian's Key for?
Julian's Key is primarily designed for people with intellectual or cognitive disability but may benefit anyone who might have difficulty communicating in a hospital or health setting.
Where can I get the Julian's Key Health Passport?
Download the Passport (PDF 1201 kB) which can be edited or printed.
A mobile phone application is available by searching 'Julian's Key' in the Apple Store or Google Play Store.
You can also find the Julian's Key app by scanning the QR codes below:
What is the Julian's Key trial?
In August 2019, a trial of Julian's Key commenced in Logan and Ipswich Hospitals. The trial aims to identify whether Julian's Key:
helps people with disability to communicate their healthcare needs in a way that empowers them as individuals
helps health professionals and the broader care team to provide person-centred care for people with disability.
The trial will be externally evaluated to identify whether these objectives are achieved in order to address communication barriers and improve health experiences of people with disability accessing health services.
Trial evaluation
A formal evaluation of the trial will be undertaken, focusing on the client's experience using the Passport and health staff's perceptions of its effectiveness in supporting person-centred care.
A small number of people with disability using Julian's Key will be needed to participate in an evaluation. To be eligible, the person needs to:
provide consent or have a decision-maker who can consent on their behalf
live in an applicable area (West Moreton Health or Metro South Health)
have a disability and co-morbid health issues
be likely to use Ipswich or Logan hospital inpatient or emergency department services.
A small number of health staff in Logan and Ipswich Hospitals will also be approached to participate in the evaluation.
Julian's Key Health Passport Hospital Procedure
This document (PDF 289 kB) provides clinicians and other hospital staff guidance on how to implement Julian's Key Health Passport across care settings when a person presents with the Passport on admission or presentation to the hospital.
Contacts
If you have questions about the trial, please contact Julian'sKeyTrial@health.qld.gov.au
Queensland Health contacts
Metro South Hospital and Health Service
Troy Hakala, Social Worker, Health Equity and Access Unit: troy.hakala@health.qld.gov.au or (07) 3156 9580
West Moreton Health
Sharon Doyle, A/Manager, Media and Communication, Strategy Governance and Engagement: sharon.doyle@health.qld.gov.au
Department of Health
Melanie Nicholls, A/Manager, Strategic Policy and Legislation Branch: melanie.nicholls@health.qld.gov.au or (07) 3708 5601.
Last updated: 31 July 2019