Syphilis outbreak in Queensland
On this page:
Syphilis is a curable multistage disease caused by bacteria of the species Treponema pallidum, subspecies pallidum, that can cause serious health problems if left untreated. Syphilis is usually transmitted during anal, oral or vaginal sex through skin-to-skin contact with an infected area or through vertical transmission from mother to child. There are 4 stages of syphilis infection: primary, secondary, latent and tertiary. Each of these stages presents with different signs and symptoms.
Infectious syphilis is a significant public health concern, particularly due to the risk of congenital syphilis. The risk of vertical transmission from mother to child is high for untreated infections, with the risk diminishing over the years but never disappearing. Syphilis can also increase the risk of HIV infection, as syphilitic genital ulcers provide a portal of entry for HIV acquisition and a focus for HIV transmission.
Syphilis in Queensland
As shown in the graph below, between 2001 and 2021 the rate of infectious syphilis notifications in Queensland increased six-fold from 3.1 to 20.2 cases per 100,000 people per year.
In Queensland, Aboriginal and Torres Strait Islander populations and men who have sex with men (MSM) continue to be disproportionally affected. However, since 2016 notifications among heterosexual women of reproductive age have also substantially increased.
Between 2001 and 2021, 41 cases of congenital syphilis were reported in Queensland, 29 of which were in Aboriginal and Torres Strait Island infants. Of these, 13 were associated with intrauterine foetal death/stillbirth or the babies died after birth.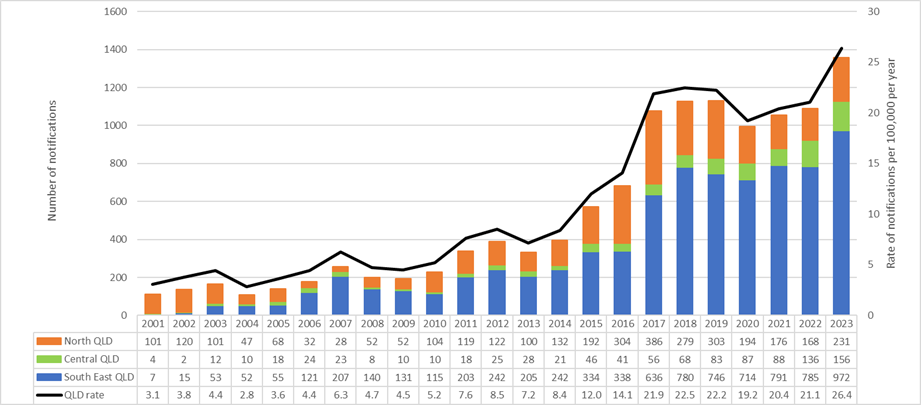 Queensland infectious syphilis outbreak
There is an ongoing infectious syphilis outbreak affecting young Aboriginal and Torres Strait Islander people living in Queensland, the Northern Territory, South Australia, and Western Australia, particularly in rural and remote areas. Increased syphilis numbers were observed in the North West Hospital and Health Service in Queensland from January 2011, and an outbreak declared in the area in September 2011. From there, the outbreak has gradually spread across other states and territories with the entire northern and some parts of southern Australia now affected.
The Chief Medical Officer has issued a public health communique to health professionals advising of significant increases in notifications of women of reproductive age in major cities of Australia. This increase has been observed across Queensland's southeast corner and poses an increased risk of congenital syphilis and adverse pregnancy outcomes.
Syphilis surveillance and reporting
Syphilis is a notifiable sexually transmissible infection (STI) in Queensland under the Public Health Act 2005 and Public Health Regulation 2018 with all laboratory-diagnosed positive syphilis test results being notified to the Notifiable Conditions System. Publicly available communicable diseases data is reported weekly at different levels across Queensland and is used to investigate local notification totals and trends.
Queensland Health produces reports describing notifications of syphilis in Queensland, focusing particularly on the demographic distribution and risk factors among infectious syphilis and congenital syphilis cases.
The Multijurisdictional Syphilis Outbreak Working Group (no longer active), formed by the Communicable Diseases Network of Australia in April 2015, also produced regular surveillance reports summarising national epidemiological data from the outbreak for the period 2016–2020.
Clinical management and resources
Timely and adequate testing and treatment for syphilis (including during pregnancy) and contact tracing of sexual partners are paramount for reducing notifications, risk of infection and burden of disease. Clinicians are encouraged to take a sexual history from all their patients and consider that infectious syphilis is possible in any of their sexually active patients.
Information sheets:
Case report forms:
Testing and management tools and guidelines:
Queensland Syphilis Surveillance Service
The Queensland Syphilis Surveillance Service (QSSS) (North and South Queensland teams) reviews all notified syphilis cases. They provide the treating clinician with information about a patient's history of syphilis testing and treatment to support the accurate staging of infection and clinical management. The service also plays a key role in enhanced surveillance data collection, and education on syphilis, and may assist with contact tracing.
Phone: 1800 032 238
Email:
Syphilis campaigns
Training
Last updated: 20 April 2023