About us
What is the Cunningham Centre?
Introduction

The Cunningham Centre, a unit of the Darling Downs Hospital and Health Service, was established in 1989. Since its establishment, the Centre has been involved in high quality training, education, research and support of health personnel in Queensland.
Where are we located?

The Cunningham Centre is a unit of the Darling Downs Hospital and Health Service and is based on the Baillie Henderson Hospital campus. There are also officers located around the state in Cairns, Innisfail, Brisbane, Roma and Stanthorpe.
What do we offer?

A team of experienced and accredited trainers and facilitators deliver a wide range of programs in areas such as:
Allied Health
Nursing
Sterilisation Services.
A range of non-clinical programs are also on offer to support Queensland Health staff. For further information on the training available, please refer to our activity list.
The Cunningham Centre employs a wide variety of modes for its education and training delivery including:
onsite training in hospitals, clinics and healthcare centres
distance education
videoconferencing
teleconferencing
online resources.
Vision and values

Our vision
Caring for our Communities: Healthier Together.

Our values
Compassion - We engage with others and demonstrate empathy, care, kindness, support and understanding.
Integrity - We are open, honest, approachable, equitable and consistent in everything we do.
Dignity - We treat others with respect, display reasonableness and take pride in what we do.
Innovation - We strive to know more, learn more and do better.
Courage - We respectfully question for clarity, have the strength to act and embrace change for the better.
Who is the Cunningham Centre?
Allied Health Education and Training

The Allied Health Education and Training team aims to assist the allied health workforce to deliver high quality services to clients and patients. We provide a range of education and training products that are specifically designed to support allied health clinicians, managers and assistants in their work roles, and to increase the capability and confidence of the allied health workforce. Our range of products continues to evolve with the emergence of new work roles and new models of allied health service delivery. We are also offering an increasing range of interdisciplinary training products.
Nursing Education and Training

The Nursing Education and Training team, in partnership with the Aboriginal and Torres Strait Islander Maternal, Child and Youth Workforce Development team, delivers training to support nurses, midwives and Aboriginal and Torres Strait maternal, child and youth health workers working in rural and remote areas. Our educators are located across three sites: Brisbane, Toowoomba and Cairns. Our courses are specifically tailored to equip nurses, midwives and Aboriginal and Torres Strait Islander maternal, child and youth health workers with the theoretical knowledge and clinical skills for their practice in various rural and remote settings. Our courses are delivered via a variety of modes including videoconferencing, webinars and face to face workshops to provide a flexible learning experience.
We also deliver the Certificate III in Sterilisation Services, a nationally accredited qualification designed to meet the requirements of Standard 3 of the National Safety and Quality Health Service Standards (NSQHS). This qualification is delivered to existing workers in clinical sterilisation departments, oral health services, and similar environments.
We provide Registered Training Organisation (RTO) services to the Clinical Skills Development Service for the delivery of the 10530NAT - Graduate Certificate in Healthcare Simulation.
Accreditation and professional memberships
Registered Training Organisation

The Cunningham Centre is a Registered Training Organisation with the Australian Skills Quality Authority (ASQA) - Registered provider number: 1627. Please note that we have changed legal entity from Department of Health to Darling Downs Hospital and Health Service. We continue to trade under the name of the Cunningham Centre. For more information on the courses available, please see our activity list.
All accredited training course pages will include the Nationally Recognised Training (NRT) logo (as below) and code/title of the training product.
ISO accredited

The activities of the Cunningham Centre are AS/NZS ISO 9001:2008 certified as part of the Darling Downs Hospital and Health Service. Our Quality Management System encompasses the development, monitoring and review of processes and procedures which support best practice in complying with quality standards. We pride ourselves in delivering high quality targeted education and training products and services to the health workforce.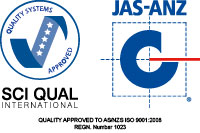 Professional memberships

Last updated: 25 October 2016