Rockhampton residential rehabilitation and withdrawal service
The new Rockhampton Residential Rehabilitation and Withdrawal Management Service for adults commenced on 6 December 2021 and is named Binbi Yadubay.
It includes 42 places for residential treatment including 32 rehabilitation beds, 8 withdrawal management beds, and 2 family units for parents. As part of new service options, a non-residential day program for young people has also been established in central Rockhampton.
For enquiries about accessing these services, contact the service provider Lives Lived Well by phone on 1300 727 957 or visit their website.
The new services will improve access to treatment and support for people in Rockhampton and surrounding regions. Admission is voluntary and limited to people assessed as suitable for a residential program.
The name of the residential treatment service, Binbi Yadubay is in the language of the Darumbal peoples, the traditional owners of the land on which the service is delivered. Permission for the name was given by the Darumbal Elders. It is pronounced 'bine-be ya-do-bay' and it can be interpreted in English as 'healthy beginnings'.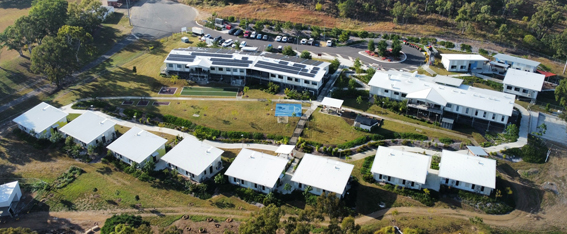 Locations
Binbi Yadubay is located at 12 Nuttall Street, Parkhurst, North Rockhampton.
The non-residential day program for young people is located at 155 Alma Street, Rockhampton city.
The treatment provider
Lives Lived Well
Lives Lived Well is a not-for-profit organisation working to help people impacted by drugs or alcohol as well as mental health concerns.
The organisation already has a strong presence in Rockhampton, having provided support in the region for approximately 5 years.
Lives Lived Well was actively involved in planning for the new suite of services in Rockhampton, including opportunities for community engagement and consultation.
Find further information on the Lives Lived Well website.
Residential services for adults
Binbi Yadubay provides 3 different residential treatment types for adults 18 years and over:
withdrawal management (8 beds)
residential rehabilitation (32 beds)
residential rehabilitation for parents with substance dependence (2 family units)
The operation of the service, including how visitation and curfews are managed is part of the service policy and procedures implemented by Lives Lived Well. Rules and protocols of the service are clearly communicated to staff, clients and visitors, including consequences of non-compliance.
Family units
The family units will provide much needed access for parents that wish to seek treatment for substance dependence but often cannot attend more intensive programs because of parenting or carer responsibilities. Children (up to 10 years of age) can remain with their family and are also provided care and support by specifically qualified and dedicated staff.
Day program for young people
Lives Lived Well commenced the alcohol and other drug Day Support Program service for young people aged 12 to 21 years in Rockhampton on 1 June 2020.
Young people can visit the service for face-to-face individual counselling, case management, group programs or to drop-in to the chill-out zone. Phone and online support can also be provided as needed.
For more information, visit the Lives Lived Well website.
Last updated: 3 August 2023