Evidence to support change
Understanding the levels of evidence and how to appraise the strength and quality of evidence in a timely way is crucial. These resources may assist with structuring your search and evaluating the quality of the available evidence. Always speak to your librarian or an experienced research colleague if you need more help with this step!
Champion Guide - Evidence to support a change
This manual will provide a guide of how you can facilitate AH-TRIP training to use the AH-TRIP webinars and training materials. This guide will provide you with discussion points, prompts and concepts for you to consider and pose to your department or team to enhance learning opportunities. Read More > (PDF 366 kB)
Tell us what you think
Did you find this webinar useful? Please provide your feedback to assist with the development of future training materials.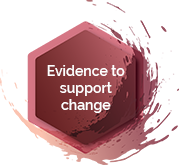 Last updated: 10 January 2020