Medical Clinic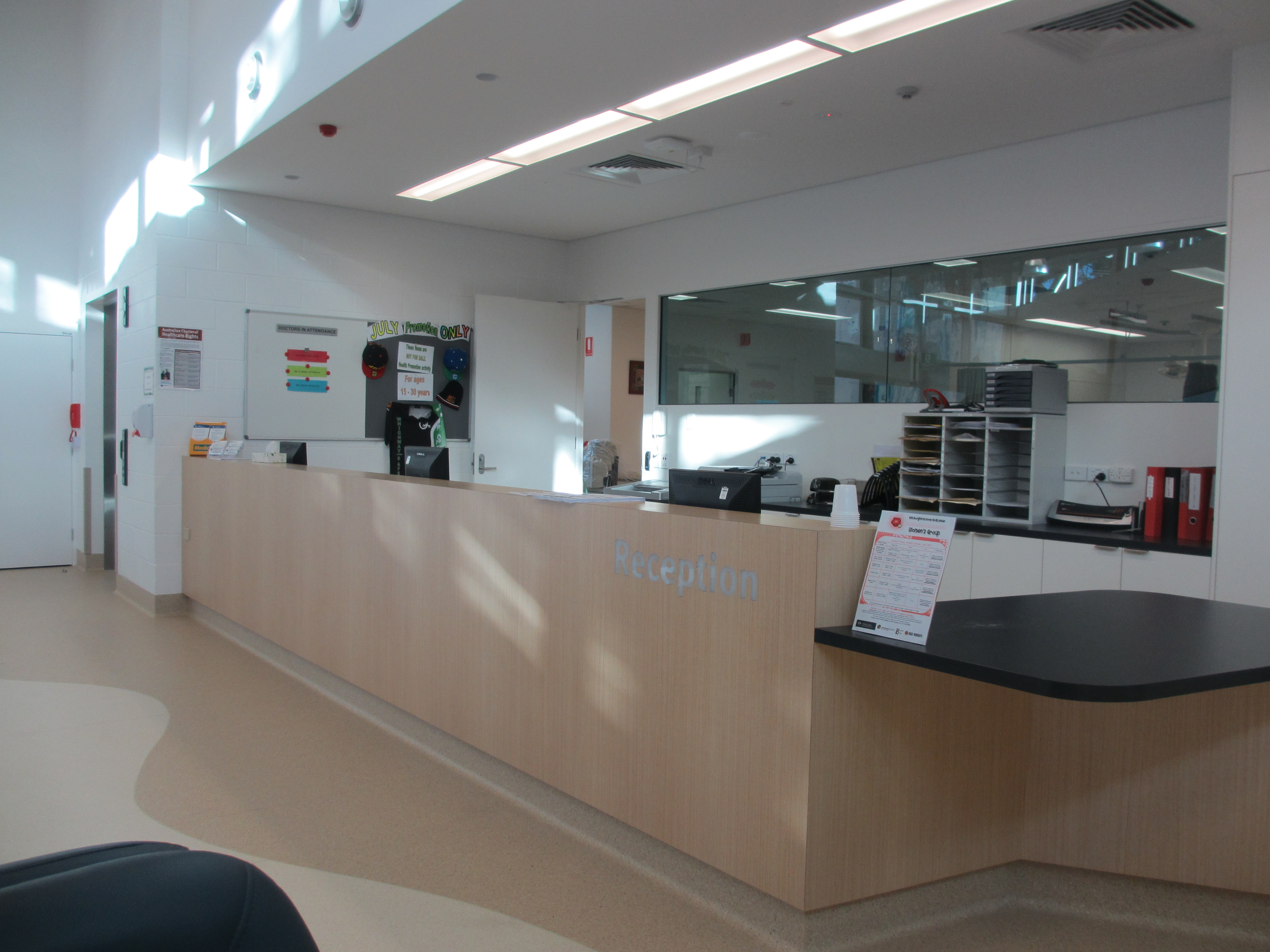 Medical GP/Doctor clinic
We provide a range of medical and clinical services to our Aboriginal and Torres Strait Islander community. We are an AGPAL Accredited General Practice and provide a high standard of quality and safety care for our clients.
In our clinic, we have a team of highly skilled doctors, nurses, health professionals and administrative support staff that provide a welcoming experience and culturally safe care for all of our clients.
Access to GP's and GP registrar's, Health Assessments, Chronic Disease care, cycles of care, Immunisations and Men's and Women's Health.
Our fees
There are no costs as this is a bulk billing clinic. All of our services including specialists consultations are provided via Medicare's Bulk Billing services.
Outside of Hours care:
Our clinics use House Call Doctor, when our clinic is closed. Call 13 55 66 from 6pm-8am weekdays, after midday Saturday & all day Sunday and public holidays. - See more at: http://www.housecalldoctor.com.au
Outside of hours care on Saturday mornings 8am-12pm is provided by Gundu Pa Primary Care Centre Ph: 07 3213 7800
Making an appointment?
To make an appointment call our clinic receptionists on 07 3101 4222. Every effort will be made to accommodate your preferred time. Longer consultations are available if needed. If you have a preferred practitioner that you would like to see you can also request this at the time of making your appointment.
Attending your appointment
Please advise our friendly reception staff on your arrival. They will ask you some valuable questions. Correct patient identification and information is vital for patient safety and to maintain confidentiality.
Cancelling your appointment
Please phone us on 07 3101 4222 if you are unable to attend your scheduled appointment.
Drop-Ins / On the Day
We have limited drop-in patient appointments and cannot guarantee wait times or availability which is why an appointment is preferred to avoid lengthy wait times.
Telehealth
We can provide appointments over the phone or over video call.
Allied Health & Aboriginal Health Workers
We provide a range of Allied Health professionals and visiting specialists clinics that work at our clinic. We strive to have access to holistic health care in the community for Aboriginal and Torres Strait Islander peoples.
Our Aboriginal Health Workers & Allied Health services include:
Dietitian
Social Worker
Trauma Counsellor
Exercise Physiology
Diabetic Educator
Speech Pathology
Psychology (adult and children)
SPOT Clinic (Student led Speech, OT and Physio clinic for children)
Aboriginal Health Worker – Tobacco Treatment Specialist
Aboriginal Health Worker – Mental Health
Mental Health Nurse
Advance Aboriginal Health Workers (Clinic, Sexual Health, Generalist)
Empowering Strong Families (Health Worker)
Client Support Officers
Visiting Specialist Clinics
| Visiting Specialist | Clinic Type | Frequency |
| --- | --- | --- |
| Addictions | Alcohol & Drug | Monthly |
| Brisbane Domestic Violence | Domestic Violence Support | Monthly |
| Cardiologist | Heart, Cardiovascular | Monthly |
| Dermatologist | Skin | Monthly |
| Endocrinologist | Diabetes Specialist care | Monthly |
| Hepatologist | Liver, Hepatitis | Monthly (telehealth) |
| HUB Community Legal Service | Legal support | Monthly |
| NDIS | Disability Support Services | Monthly |
| Nephrologist | Kidney | Monthly |
| Ophthalmology | Specialist Eye Care and treatment | Fortnightly |
| Oral Health (Child) | Health Mouth Screening | Monthly |
| Paediatrician | Child Development | Weekly |
| Pain Management | Pain & Rehabilitation specialist | Fortnightly |
| Psychiatry | Mental Health Consultant, Registrar (Adult & Children) | Weekly |
| Rheumatologist | Joints, Muscles, Bones | Monthly |
Last updated: 9 March 2023