HIPPY (Home Interaction Program for Parents and Youngsters)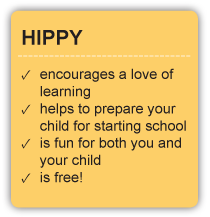 Do you want to teach your own child to love books and learning?
We invite your preschooler to become a HIPPY!The Home Interaction Program for Parents and Youngsters (HIPPY) is a home-based parenting and early childhood program for families with children aged 4 years.

Our health service employs HIPPY co-ordinator Jacqui Ruhle and five local mums who are HIPPY home tutors. Your tutor will visit your home to help YOU become your child's first teacher, providing games and stories for families to enjoy together.
How does it work?
Your tutor brings the activities to your home (or wherever it suits you) and shows you how to do them with your child. The activities include learning about colour, shape numbers and letters. You are already your child's earliest and most powerful teacher, and HIPPY makes learning fun and easy.

Each HIPPY child will receive their own box of materials including weekly activity packs, craft supplies and story books. HIPPY has 45 activity packs delivered over two years.



Who can do it?
HIPPY Inala is open to families who live in Inala and surrounding suburbs of Oxley, Acacia Ridge, Forest Lake and Ellen Grove.

HIPPY families are invited to attend a monthly playgroup morning tea to meet with other families, share ideas and get support.

HIPPY is a national early literacy program, which the Brotherhood of St Laurence is licenced to operate in Australia. The HIPPY website is here.


Contact us
To join our program or for further information, please contact our HIPPY coordinator, on 07 3101 8362.
The Brotherhood of St Lawrence holds the licence to operate HIPPY Inala in Australia.
Inala's very own children's book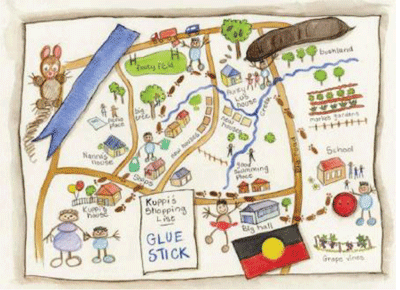 An image of Kuppi's special story map

Our HIPPY co-ordinator Jacqui Ruhle has written a delightful picture book for preschoolers, illustrated by Naomi Lewis.

Kuppi's clever surprise plan is about a little Aboriginal boy from Inala who has a special relationship with his Nanna. His Nanna calls him Kuppi, which means possum in the Jagera language.
---
Hippy Inala is funded by the Australian Government -- Department of Education, Employment and Workplace Relations through the Home Interaction Program for Parents and Youngsters.
Although care is taken, this site, and links from it to third-party sites, may possibly contain the names or images of people who have passed away, which may sadden and distress some Aboriginal and Torres Strait Islander people.
Last updated: 9 March 2023